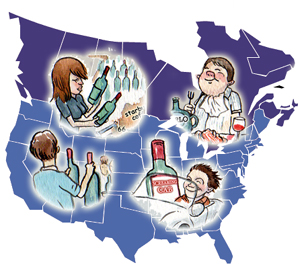 I often get asked, "What is the best wine?"/"What's new in wine?"/"What should I be drinking?" – this recent survey gives a bit of insight into what is happening in the industry to keep you in the know:
- United States sippers reaffirmed their role as the world's No. 1 wine consumer, drinking 3.8 billion bottles in 2011, up 4.5 percent from 2010. They are also projected to sip an additional two bottles each a year by 2016.
- Champagnes and sparkling wines continue to be popular, with consumption up 18 percent between 2007 and 2011.
- North Americans still like white wines, with consumption up 10 percent since 2007 – led by Pinot Grigio, Sauvignon Blanc and Moscato, with chardonnay slumping. White wines make up 40 percent of the wines we drink.
- Sixty percent of the wines North Americans drink are red, although combined we are behind France, Italy and China  as the world's largest red wine consumers. We're predicted to increase red wine consumption by 18 percent by 2016. Our top three reds: Cabernet Sauvignon, Merlot and Pinot Noir.
- Malbec, the mellow, hearty red wine from Argentina and elsewhere, is also gaining fast – up 21 percent in the past year, according to Gomberg, Fredrikson & Associates, industry analysts.
- Meanwhile, European wine drinkers are cutting back – with German wine consumption down 3 percent, Britain down 4 percent, France down 7 percent and Italy down 3 percent and unemployment-wracked Spain down 20 percent between 2007 and 2011.
- As North Americans drink more wine, France, ironically, is drinking more Coca-Cola – tripling its consumption in the past 20 years to 149 cans apiece per year.
- In spirits, worldwide vodka consumption was down 5 percent, brandy up 23 percent and rum up 22 percent.